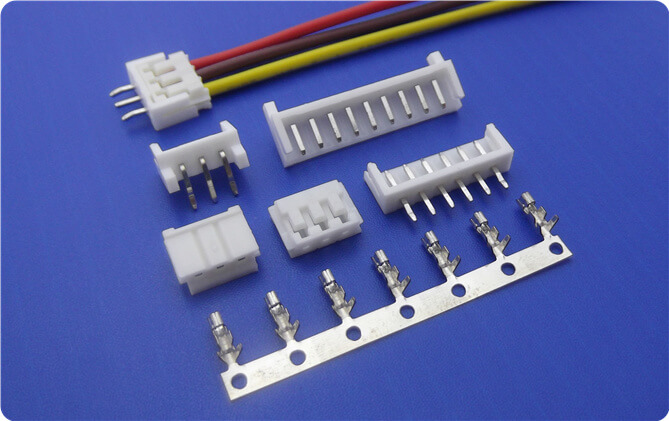 SCT2511 SERIES
SCT2511 Series are replacement of JST EH series connectors. 2.5mm pitch,It is designed to meet the demand for the high-density connection of internal wires to PC boards.
| | |
| --- | --- |
| compatible | Jst EH Series Connector |
| Pitch | 2.5mm |
| Poles | 2-16 poles |
| Current rating | 3A (AWG#22-#28) |
Cable Assemblies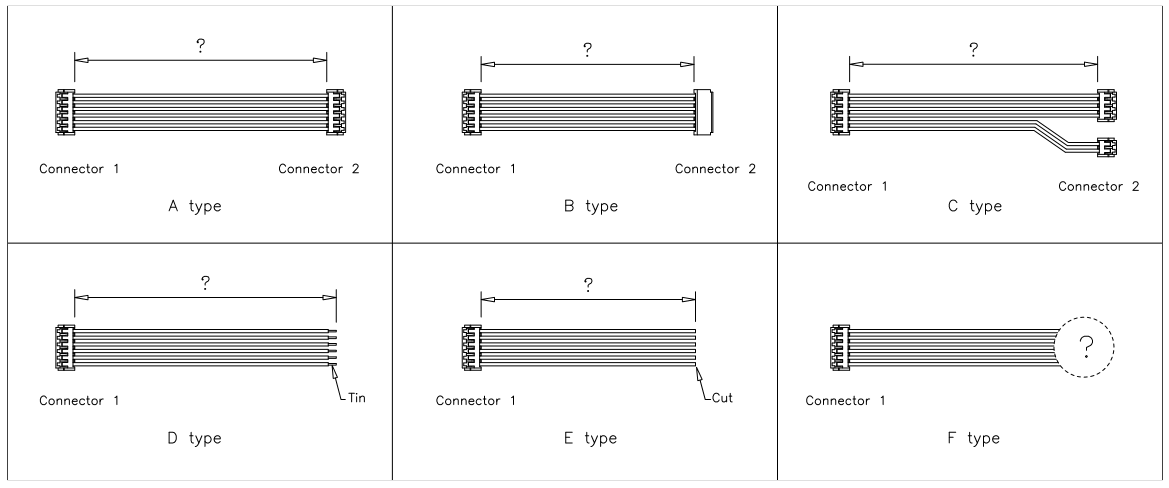 | Item | Spec. |
| --- | --- |
| Part No. | SCT2511 |
| Compatible: | JST EH series connector |
| Pitch - Mating Interface | 2.5mm |
| Circuits | 2 - 16 |
| Applicable wire: | AWG #22 - #28 (Max.OD: 1.5mm) |
| Current Rating: | 3A |
| Voltage Rating: | 250V |
| Temperature Range: | -25°C~+85°C |
| Contact Resistance: | 20m Omega Max |
| Insulation Resistance: | 1000M Omega Min |
| Withstanding Voltage: | 1000V AC/minute |
EH 2.5mm pitch connector
EH 2.5mm pitch connector mostly used in circuits where high density connections are desired. The compact design, reliability in connection and cheap in cost features have increased the usage of the connector.
Features
Ultra Compact design
The connector occupies very small space on the circuit because of its small and thin design. The height of the EH connector is only 8.1 mm and the width of the connector is 3.8mm. This height and width has been noted after mounting the connector.
Reliable contact
The dimple structure at the center of the contact is indicative of the positive contact between the points. The contact resistance offered by the connector is very low. The connector has long wire strip length of 2.6 mm. the length of the wire varies within a range of +-0.4mm.
Easy determination of polarity
EH 2.5mm pitch connector has polarity indicators known as polarizing guides for both header and housing. This has been gives to avoid improper connection.
Easy gripping and crimping
The strip length of the wire adds to the ease of connection by crimping the wires. Automatic crimping is lot easier than manual crimping.
Applicable wire and PCB thickness
This connector can be applicable to wire of AWG #22 to #28 with wire diameter of 1.5 mm. It is applicable to PCB thickness of 0.8 mm to 1.6 mm.
Applications
EH connector works as a solution for the number of internal wires connected to the PC board for designing the electronic circuits. This connector finds most of its uses in the road vehicles. The connector also finds its application in various other automotive sector and housing applications. Camcorder or camera auxiliary equipments make use of the EH connector.
Part No. Cross Reference
Housing & Terminal
| SCONDAR P/N | JST P/N |
| --- | --- |
| SCT2511-TP | SEH-001T-P0.6 |
| SCT2511-TP | *SEH-001T-P0.6L |
| SCT2511-TP | *SEH-002T-P0.6L |
| SCT2511-TP | *SEH-003T-P0.6L |
| SCT2511H-2P | EHR-2 |
| SCT2511H-3P | EHR-3 |
| SCT2511H-4P | EHR-4 |
| SCT2511H-5P | EHR-5 |
| SCT2511H-6P | EHR-6 |
| SCT2511H-7P | EHR-7 |
| SCT2511H-8P | EHR-8 |
| SCT2511H-9P | EHR-9 |
| SCT2511H-10P | EHR-10 |
| SCT2511H-11P | EHR-11 |
| SCT2511H-12P | EHR-12 |
| SCT2511H-13P | EHR-13 |
| SCT2511H-14P | EHR-14 |
| SCT2511H-15P | EHR-15 |
Vertical Header
| SCONDAR P/N | JST P/N |
| --- | --- |
| SCT2511WV-2P | B2B-EH-A |
| SCT2511WV-3P | B3B-EH-A |
| SCT2511WV-4P | B4B-EH-A |
| SCT2511WV-5P | B5B-EH-A |
| SCT2511WV-6P | B6B-EH-A |
| SCT2511WV-7P | B7B-EH-A |
| SCT2511WV-8P | B8B-EH-A |
| SCT2511WV-9P | B9B-EH-A |
| SCT2511WV-10P | B10B-EH-A |
| SCT2511WV-11P | B11B-EH-A |
| SCT2511WV-12P | B12B-EH-A |
| SCT2511WV-13P | B13B-EH-A |
| SCT2511WV-14P | B14B-EH-A |
| SCT2511WV-15P | B15B-EH-A |
Right-angle Header
| SCONDAR P/N | JST P/N |
| --- | --- |
| SCT2511WR-2P | S2B-EH |
| SCT2511WR-3P | S3B-EH |
| SCT2511WR-4P | S4B-EH |
| SCT2511WR-5P | S5B-EH |
| SCT2511WR-6P | S6B-EH |
| SCT2511WR-7P | S7B-EH |
| SCT2511WR-8P | S8B-EH |
| SCT2511WR-9P | S9B-EH |
| SCT2511WR-10P | S10B-EH |
| SCT2511WR-11P | S11B-EH |
| SCT2511WR-12P | S12B-EH |
| SCT2511WR-13P | S13B-EH |
| SCT2511WR-14P | S14B-EH |
| SCT2511WR-15P | S15B-EH |