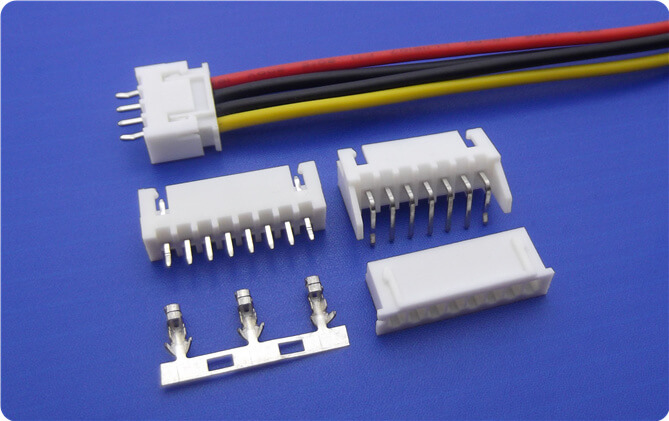 SCT2501 Series
SCT2501 Series are replace of JST XH connector. 2.5mm pitch,are widely use on many field with high reliability and versatility performance.mounting height of 9.8mm.
| | |
| --- | --- |
| compatible | Jst XH Series Connector |
| Pitch | 2.5mm |
| Poles | 2-16 poles |
| Current rating | 3A (AWG#22-#28) |
Cable Assemblies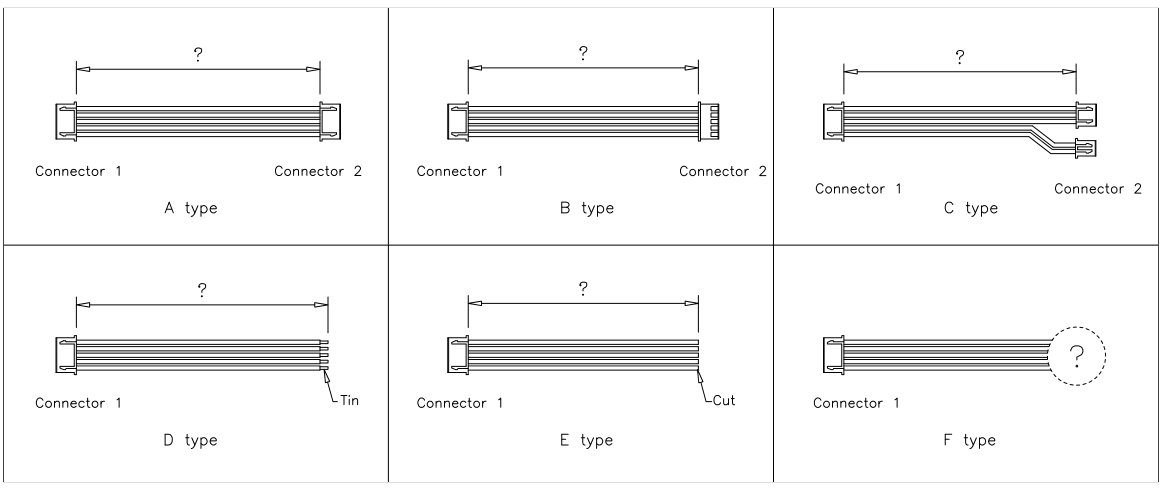 | Item | Spec. |
| --- | --- |
| Part No. | SCT2501 |
| Compatible: | JST XH series connector |
| Pitch - Mating Interface | 2.5mm |
| Circuits | 2 - 16 |
| Applicable wire: | AWG #22 - #28 (Max.OD: 1.5mm) |
| Current Rating: | 3A |
| Voltage Rating: | 250V |
| Temperature Range: | -25°C~+85°C |
| Contact Resistance: | 20m Omega Max |
| Insulation Resistance: | 1000M Omega Min |
| Withstanding Voltage: | 1000V AC/minute |
JST XH 2.5mm pitch connector
JST XH 2.5mm pitch connector is wire to board crimp style connector. This XH series connector is quite known for its miniscule structure. The mounting height of the connector is as small as 9.8mm. The connector has been designed on the basis of the reliability offered by the NH series connectors.
Features
Types and mounting direction
The XH series connector is of three types. Crimp, disconnectable and shrouded header are the three types of the connector. The connector can be mounted on the PC board in both as top and side entry.
Shrouded header
The shrouded header of the connector has a great advantage. Generally resin is coated over the PC board. The shrouded header prevents the pins from coming in contact with the pins of the connector. The header is also made tall for the same reason. The header of the connector is made box type.
Interchangeability
The design of the connector has been made so as to match with the correct receptacles. The header doesn't match with receptacles other than XH connector.
Folded beam contact
Easy contact insertion allows the connector to be inserted to the housing smoothly. This is why it is easy to use for the wire to board connections.
Miscellaneous features
The connector can work well within a temperature range of -25 degrees centigrade to +85 degrees centigrade. The connector offers very low contact resistance of 20 m omega. It is applicable to wires of AWG #32 to #22. The connector can withstand AC voltage of 1000 volt per minute.
Applications
The connector finds its usage in different types of home appliances, office machines, vending machines, computer, medical, digital camera, telephone, TV and more.
Industrial usage- Market demand
The connector has high demand in the consumer electronics market, automobile electronics market, mobile phone, computer and medical electronics market.
Part No. Cross Reference
Housing & Terminal
| SCONDAR P/N | JST P/N |
| --- | --- |
| SCT2501-TP | SXH-001T-P0.6N |
| SCT2501-TP | SXH-001T-P0.6 |
| SCT2501-TP | SXH-002T-P0.6 |
| SCT2501H-2P | XHP-2 |
| SCT2501H-3P | XHP-3 |
| SCT2501H-4P | XHP-4 |
| SCT2501H-5P | XHP-5 |
| SCT2501H-6P | XHP-6 |
| SCT2501H-7P | XHP-7 |
| SCT2501H-8P | XHP-8 |
| SCT2501H-9P | XHP-9 |
| SCT2501H-10P | XHP-10 |
| SCT2501H-11P | XHP-11 |
| SCT2501H-12P | XHP-12 |
| SCT2501H-13P | XHP-13 |
| SCT2501H-14P | XHP-14 |
| SCT2501H-15P | XHP-15 |
| SCT2501H-16P | XHP-16 |
Vertical Header
| SCONDAR P/N | JST P/N |
| --- | --- |
| SCT2501WV-2P | B2B-XH-A |
| SCT2501WV-3P | B3B-XH-A |
| SCT2501WV-4P | B4B-XH-A |
| SCT2501WV-5P | B5B-XH-A |
| SCT2501WV-6P | B6B-XH-A |
| SCT2501WV-7P | B7B-XH-A |
| SCT2501WV-8P | B8B-XH-A |
| SCT2501WV-9P | B9B-XH-A |
| SCT2501WV-10P | B10B-XH-A |
| SCT2501WV-11P | B11B-XH-A |
| SCT2501WV-12P | B12B-XH-A |
| SCT2501WV-13P | B13B-XH-A |
| SCT2501WV-14P | B14B-XH-A |
| SCT2501WV-15P | B15B-XH-A |
| SCT2501WV-16P | B16B-XH-A |
Vertical Header with peg
| SCONDAR P/N | JST P/N |
| --- | --- |
| SCT2501WV-F-2P | B2B-XH-AM |
| SCT2501WV-F-3P | B3B-XH-AM |
| SCT2501WV-F-4P | B4B-XH-AM |
| SCT2501WV-F-5P | B5B-XH-AM |
| SCT2501WV-F-6P | B6B-XH-AM |
| SCT2501WV-F-7P | B7B-XH-AM |
| SCT2501WV-F-8P | B8B-XH-AM |
| SCT2501WV-F-9P | B9B-XH-AM |
| SCT2501WV-F-10P | B10B-XH-AM |
| SCT2501WV-F-11P | B11B-XH-AM |
| SCT2501WV-F-12P | B12B-XH-AM |
Right-angle Header
SCONDAR P/N
JST P/N
SCT2501WR-2P
S2B-XH-A-1
S2B-XH-A
SCT2501WR-3P
S3B-XH-A-1
S3B-XH-A
SCT2501WR-4P
S4B-XH-A-1
S4B-XH-A
SCT2501WR-5P
S5B-XH-A-1
S5B-XH-A
SCT2501WR-6P
S6B-XH-A-1
S6B-XH-A
SCT2501WR-7P
S7B-XH-A-1
S7B-XH-A
SCT2501WR-8P
S8B-XH-A-1
S8B-XH-A
SCT2501WR-9P
S9B-XH-A-1
S9B-XH-A
SCT2501WR-10P
S10B-XH-A-1
S10B-XH-A
SCT2501WR-11P
S11B-XH-A-1
S11B-XH-A
SCT2501WR-12P
S12B-XH-A-1
S12B-XH-A
SCT2501WR-13P
S13B-XH-A-1
S13B-XH-A
SCT2501WR-14P
S14B-XH-A-1
S14B-XH-A
SCT2501WR-15P
S15B-XH-A-1
S15B-XH-A
SCT2501WR-16P
-
S16B-XH-A
SMD Right-angle Header
| SCONDAR P/N | JST P/N |
| --- | --- |
| SCT2501WR-S-3P | S3B-XH-SM4-TB |
| SCT2501WR-S-4P | S4B-XH-SM4-TB |
| SCT2501WR-S-6P | S6B-XH-SM4-TB |