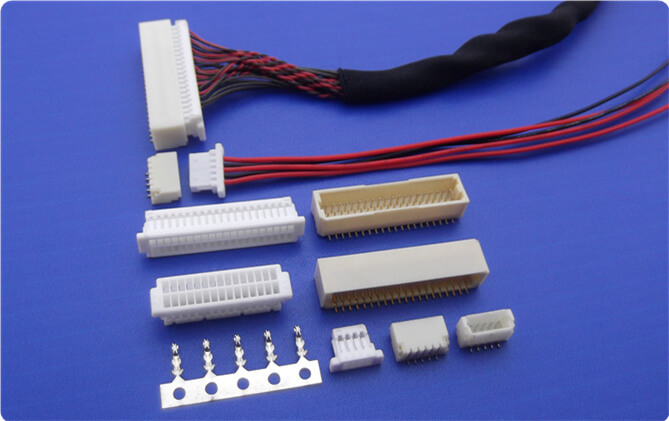 SCT1001 SERIES
SCT1001 series connectors are replacement of JST SH Series connectors. with 1.0mm pitch space compact, low profile design. Socket with locking feature mating crimp housing.
| | |
| --- | --- |
| Compatible | JST SH & SHD Series Connector |
| Pitch | 1.0mm |
| Poles | 2-20 & 2*6-2*25 poles |
| Current rating | 1A (AWG#28-#32) |
Cable Assemblies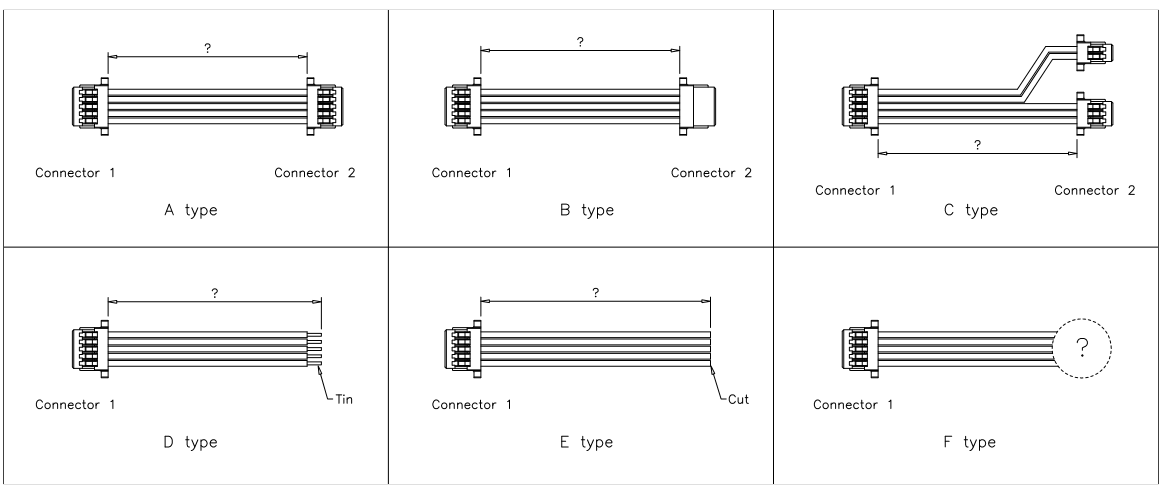 | Item | Spec. |
| --- | --- |
| Part No. | SCT1001 |
| Compatible: | JST SH & SHD series connector |
| Pitch - Mating Interface | 1.0mm |
| Circuits | 2-20 & 2*6-2*25 |
| Applicable wire: | AWG#28-#32 (Max.OD:1.0mm) |
| Current Rating: | 1A |
| Voltage Rating: | 50V |
| Temperature Range: | -20°C~+85°C |
| Contact Resistance: | 20m Omega Max |
| Insulation Resistance: | 500M Omega Min |
| Withstanding Voltage: | 500V AC/minute |
JST SH connector 1.0mm Pitch
JST SH 1.0mm connector is a wire to board connector. The product belongs to the SH series. There are three types of styles of this connector such as dis-connectable, crimp and compact.
The design of the connector has been made low profile. The connector has integrated locking feature in it but it has been made free of holes to avoid problems with vacuum gripping equipments. The lock-in feature of the connector has been achieved with the use of the housing lances.
The receptacle of the connector can be easily disengaged from the head without holding the wires as it has protrusions on every end of the operator. The connector is compatible with SR insulation displacement connector.
Specifications
As the name of the connector suggests, it has 1.0 mm pitch. The poles of the connector can vary within a range of 2 and 20. The connector can be used for AC and DC operations. The current and voltage rating of the connector is 1A and 50 V respectively.
The connector works perfectly within the temperature range of -20 degrees centigrade to +85 degrees centigrade. The maximum contact resistance offered by the connector is 20m omega.
You need to provide a minimum of 500M omega insulation resistance while using this connector. The connector has the capability to withstand 500V AC per minute. The wire range varies between AWG #28 to #32.
Item, material and package
The housing and wafer package are available as 1000 Pcs per bag. Both these connector types are made of Nylon66 UL94V-0 PA46.
For terminal purpose the available package offers 20,000 Pcs per bag. The material used for these is phosphor bronze or brass. For wire harness, you can ask for custom materials with 1000 Pcs/bag.
Part No. Cross reference
Housing & Terminal
SCONDAR P/N
JST P/N
SCT1001T
SSH-003T-P0.2-H
SSH-003T-P0.2-H
SCT1001H-02P
SHR-02V-S-B
SHR-02V-S
SCT1001H-03P
SHR-03V-S-B
SHR-03V-S
SCT1001H-04P
SHR-04V-S-B
SHR-04V-S
SCT1001H-05P
SHR-05V-S-B
SHR-05V-S
SCT1001H-06P
SHR-06V-S-B
SHR-06V-S
SCT1001H-07P
SHR-07V-S-B
SHR-07V-S
SCT1001H-08P
SHR-08V-S-B
SHR-08V-S
SCT1001H-09P
SHR-09V-S-B
SHR-09V-S
SCT1001H-10P
SHR-10V-S-B
SHR-10V-S
SCT1001H-11P
SHR-11V-S-B
SHR-11V-S
SCT1001H-12P
SHR-12V-S-B
SHR-12V-S
SCT1001H-13P
SHR-13V-S-B
SHR-13V-S
SCT1001H-14P
SHR-14V-S-B
SHR-14V-S
SCT1001H-15P
SHR-15V-S-B
SHR-15V-S
SCT1001H-20P
SHR-20V-S-B
SHR-20V-S
SMD Vertical Header
| SCONDAR P/N | JST P/N |
| --- | --- |
| SCT1001WV-S-02P | BM02B-SRSS-TB |
| SCT1001WV-S-03P | BM03B-SRSS-TB |
| SCT1001WV-S-04P | BM04B-SRSS-TB |
| SCT1001WV-S-05P | BM05B-SRSS-TB |
| SCT1001WV-S-06P | BM06B-SRSS-TB |
| SCT1001WV-S-07P | BM07B-SRSS-TB |
| SCT1001WV-S-08P | BM08B-SRSS-TB |
| SCT1001WV-S-09P | BM09B-SRSS-TB |
| SCT1001WV-S-10P | BM10B-SRSS-TB |
| SCT1001WV-S-11P | BM11B-SRSS-TB |
| SCT1001WV-S-12P | BM12B-SRSS-TB |
| SCT1001WV-S-13P | BM13B-SRSS-TB |
| SCT1001WV-S-14P | BM14B-SRSS-TB |
| SCT1001WV-S-15P | BM15B-SRSS-TB |
SMD Right-angle Header
| SCONDAR P/N | JST P/N |
| --- | --- |
| SCT1001WR-S-02P | SM02B-SRSS-TB |
| SCT1001WR-S-03P | SM03B-SRSS-TB |
| SCT1001WR-S-04P | SM04B-SRSS-TB |
| SCT1001WR-S-05P | SM05B-SRSS-TB |
| SCT1001WR-S-06P | SM06B-SRSS-TB |
| SCT1001WR-S-07P | SM07B-SRSS-TB |
| SCT1001WR-S-08P | SM08B-SRSS-TB |
| SCT1001WR-S-09P | SM09B-SRSS-TB |
| SCT1001WR-S-10P | SM10B-SRSS-TB |
| SCT1001WR-S-11P | SM11B-SRSS-TB |
| SCT1001WR-S-12P | SM12B-SRSS-TB |
| SCT1001WR-S-13P | SM13B-SRSS-TB |
| SCT1001WR-S-14P | SM14B-SRSS-TB |
| SCT1001WR-S-15P | SM15B-SRSS-TB |
| SCT1001WR-S-20P | SM20B-SRSS-TB |