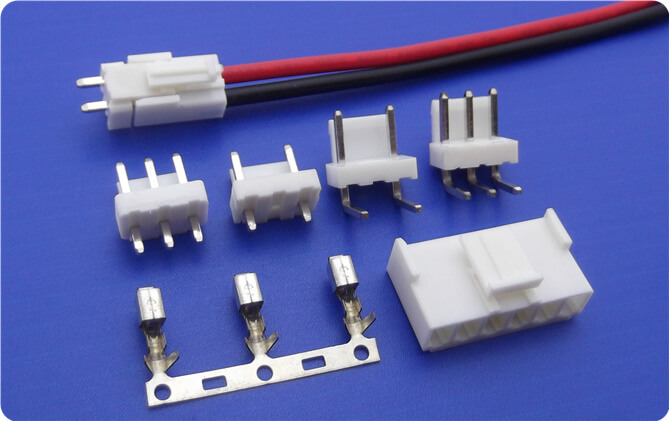 SCT3961 Series
SCT3961 Series are Replace of JST VH connector. 3.96mm pitch, it can be used with widely on signal, power supply and other consumer electronic product.
| | |
| --- | --- |
| Compatible | JST VH Series Connector |
| Pitch | 3.96mm |
| Poles | 2-12 poles |
| Current rating | 7A (AWG#18-#22) |
Cable Assemblies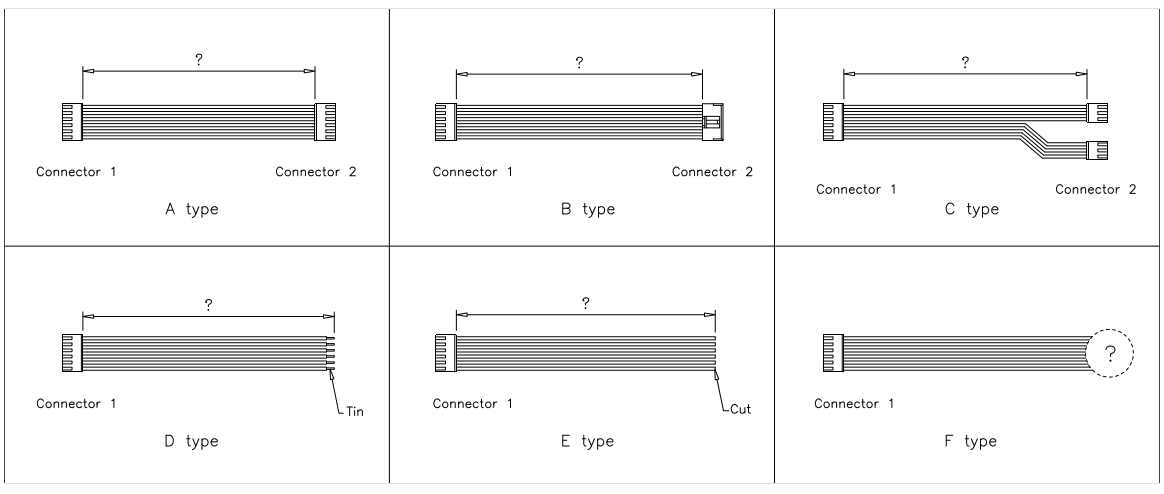 | Item | Spec. |
| --- | --- |
| Part No. | SCT3961 |
| Compatible: | JST VH series connector |
| Pitch - Mating Interface | 3.96mm |
| Circuits | 2-12 |
| Applicable wire: | AWG#18-#22 (Max.OD:2.8mm) |
| Current Rating: | 7A |
| Voltage Rating: | 250V |
| Temperature Range: | -25°C~+85°C |
| Contact Resistance: | 20m Omega Max |
| Insulation Resistance: | 1000M Omega Min |
| Withstanding Voltage: | 1000V AC/minute |
JST VH 3.96mm connector
JST VH 3.96mm connector is a wire to board connector which finds its use almost in every consumer electronic goods. The connector of VH series is well known for its excellent current carrying capacity. The reliability of the connector with the printed circuit boards has furthered the use of it.
Features
Compactness
The mounting height of the connector is just about 16.5mm after connecting it to the circuit. This feature makes it the most compact connector of all.
High current carrying capacity and high withstanding voltage
The connector can carry current up to 10 A through it. This gush of current is more than sufficient for any of the electronic devices. This connector has high voltage withstanding capacity of 1500 V AC per minute.
Locking mechanism
The unique locking mechanism of the connector prevents it from getting dislodged due to vibration in the circuit due to many reasons. The connector will not get locked to the circuit if it is misconnected. This is because it has a locking mechanism in place.
Versatility of the box contact
The box type contact is the most advanced contact used in the connectors these days. VH connector uses this contact. The contact not only secures the locking system of the circuit but also it makes the connector usable in various applications.
Applications
Variety of signal circuits and power supply circuits
Signal circuits can be of various types such as low voltage and low current. The power supply circuit generally allows flow of high amount of current. This connector is used in such circuits.
Output circuits
Output circuit gives you the electrical power for the use of various appliances. The current carrying capacity of the connector makes it usable in those circuits.
Consumer electronics
Different types of home appliances, computer, electronic parts, Printed circuits boards and many other devices use the connector.
Part No. Cross Reference
Housing & Terminal
| SCONDAR P/N | JST P/N | |
| --- | --- | --- |
| SCT3961T | SVH-21T-P1.1 | - |
| SCT3961T | SVH-41T-P1.1 | - |
| SCT3961H-2P | VHR-2N | VHR-2M |
| SCT3961H-3P | VHR-3N | VHR-3M |
| SCT3961H-4P | VHR-4N | VHR-4M |
| SCT3961H-5P | VHR-5N | VHR-5M |
| SCT3961H-6P | VHR-6N | VHR-6M |
| SCT3961H-7P | VHR-7N | VHR-7M |
| SCT3961H-8P | VHR-8N | - |
| SCT3961H-9P | VHR-9N | VHR-9M |
| SCT3961H-10P | VHR-10N | - |
| SCT3961H-11P | VHR-11N | - |
Vertical Header
| SCONDAR P/N | JST P/N |
| --- | --- |
| SCT3961WV-2P | B 2P-VH |
| SCT3961WV-3P | B 3P-VH |
| SCT3961WV-4P | B 4P-VH |
| SCT3961WV-5P | B 5P-VH |
| SCT3961WV-6P | B 6P-VH |
| SCT3961WV-7P | B 7P-VH |
| SCT3961WV-8P | B 8P-VH |
| SCT3961WV-9P | B 9P-VH |
| SCT3961WV-10P | B 10P-VH |
Right-angle Header
| SCONDAR P/N | JST P/N |
| --- | --- |
| SCT3961WR-2P | B 2PS-VH |
| SCT3961WR-3P | B 3PS-VH |
| SCT3961WR-4P | B 4PS-VH |
| SCT3961WR-5P | B 5PS-VH |
| SCT3961WR-6P | B 6PS-VH |
| SCT3961WR-7P | B 7PS-VH |
| SCT3961WR-8P | B 8PS-VH |
| SCT3961WR-9P | B 9PS-VH |
| SCT3961WR-10P | B 10PS-VH |