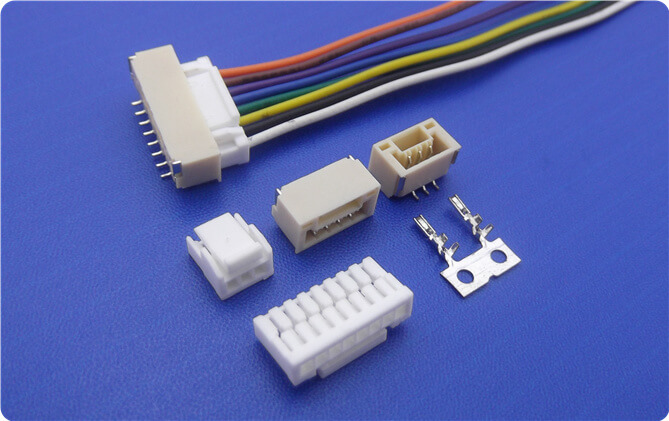 SCT1258 Series
SCT1258 series are replacement of JST GH connectors. 1.25mm pitch with secure locking device. Low insertion force type realizes easier mating opearation for small electronic device.
| | |
| --- | --- |
| Compatible | JST GH Series Connector |
| Pitch | 1.25mm |
| Poles | 2-15 poles |
| Current rating | 1A (AWG#26-#30) |
Cable Assemblies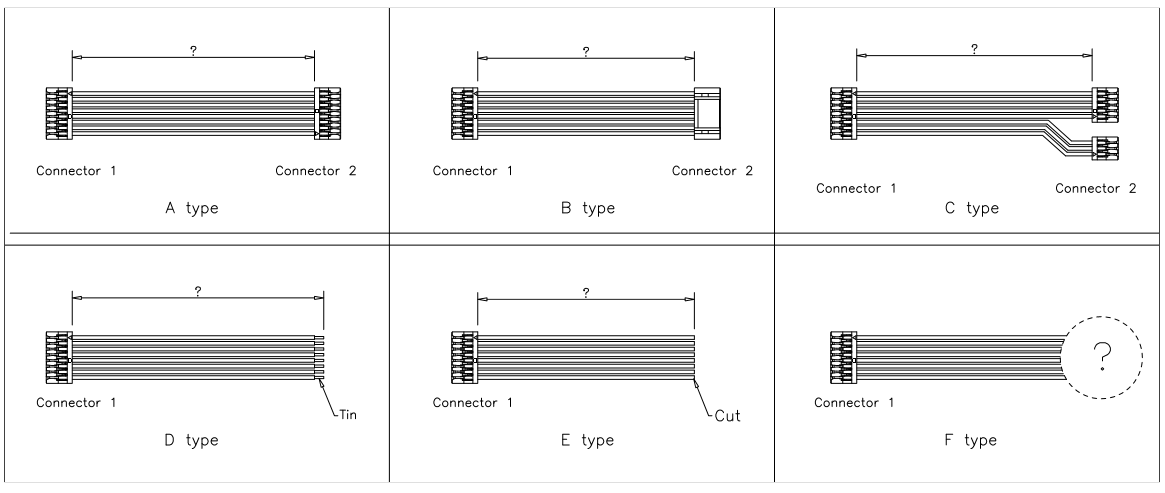 | Item | Spec. |
| --- | --- |
| Part No. | SCT1258 |
| Compatible: | JST GH series connector |
| Pitch - Mating Interface | 1.25mm |
| Circuits | 2-15 |
| Applicable wire: | AWG#26-#30(Max.OD:0.8mm) |
| Current Rating: | 1A |
| Voltage Rating: | 50V |
| Temperature Range: | -25°C~+85°C |
| Contact Resistance: | 30m Omega Max |
| Insulation Resistance: | 100M Omega Min |
| Withstanding Voltage: | 500V AC/minute |
JST GH 1.25mm connector
JST GH 1.25mm connector is the newest model of the GH series wire to board from the manufacturer. It serves an important purpose in high density applications like plasma display panels, notebook PCs, LCD monitors, cellular phones, PDAs and different other small electronic equipments.
Features
Locking feature
The locking feature of the connector has four sub-features. First of all it has got secure locking feature. The contact porting of the connector has been so designed that you just need to connect it to the circuit with small insertion feature. Apart from that it has got embossed tape for it being applicable to automatic connection equipment.
Click feedback
This GH series connector should match to the header where it is connector. The polarity sensing feature of the connector produces click sound when correct polarities of the headers are matched.
Free from deformation
The connector has a fork-shaped header. The header has grooves on the housing walls. This feature helps you to prevent the connector and circuit elements from getting distorted.
Different variants
GH connector is available in both disconnectable and crimp form. Along with that it comes with pitches which vary between two to fifteen.
Compatibility
The connector is compatible with wires of size AWG #26 to #30. The connector can be used in the circuit where the temperature varies between -25 degrees centigrade to +85 degrees centigrade. Since the header of the connector is not plated with lead, it can be shipped to almost all countries.
Application
Replacement for SHL connector
The concept behind design and performance of the connector is same as GH connector hence it can be an easy replacement for that.
Usage in electronic equipments
It can be used in all types of PCB assemblies, projector, and high power applications, computers, inkjet, notebook PC, ATM machines, LCD, security systems, digital camera, PDAs, cell phones, scanner, medical equipment, fingerprint machines, taximeter, automobile, power source for communication devices and many more.
Part No. Cross reference
Housing & Terminal
| SCONDAR P/N | JST P/N |
| --- | --- |
| SCT1258T | SSHL-002T-P0.2 |
| SCT1258H-02P | GHR-02V-S |
| SCT1258H-03P | GHR-03V-S |
| SCT1258H-04P | GHR-04V-S |
| SCT1258H-05P | GHR-05V-S |
| SCT1258H-06P | GHR-06V-S |
| SCT1258H-07P | GHR-07V-S |
| SCT1258H-08P | GHR-08V-S |
| SCT1258H-09P | GHR-09V-S |
| SCT1258H-10P | GHR-10V-S |
| SCT1258H-11P | GHR-11V-S |
| SCT1258H-12P | GHR-12V-S |
| SCT1258H-13P | GHR-13V-S |
| SCT1258H-14P | GHR-14V-S |
| SCT1258H-15P | GHR-15V-S |
SMD Socket Vertical
| SCONDAR P/N | JST P/N |
| --- | --- |
| SCT1258WV-S-2P | BM02B-GHS-TBT |
| SCT1258WV-S-3P | BM03B-GHS-TBT |
| SCT1258WV-S-4P | BM04B-GHS-TBT |
| SCT1258WV-S-5P | BM05B-GHS-TBT |
| SCT1258WV-S-6P | BM06B-GHS-TBT |
| SCT1258WV-S-7P | BM07B-GHS-TBT |
| SCT1258WV-S-8P | BM08B-GHS-TBT |
| SCT1258WV-S-9P | BM09B-GHS-TBT |
| SCT1258WV-S-10P | BM10B-GHS-TBT |
| SCT1258WV-S-11P | BM11B-GHS-TBT |
| SCT1258WV-S-12P | BM12B-GHS-TBT |
| SCT1258WV-S-13P | BM13B-GHS-TBT |
| SCT1258WV-S-14P | BM14B-GHS-TBT |
| SCT1258WV-S-15P | BM15B-GHS-TBT |
SMD Socket Right-angle
| SCONDAR P/N | JST P/N |
| --- | --- |
| SCT1258WR-S-2P | SM02B-GHS-TBT |
| SCT1258WR-S-3P | SM03B-GHS-TBT |
| SCT1258WR-S-4P | SM04B-GHS-TBT |
| SCT1258WR-S-5P | SM05B-GHS-TBT |
| SCT1258WR-S-6P | SM06B-GHS-TBT |
| SCT1258WR-S-7P | SM07B-GHS-TBT |
| SCT1258WR-S-8P | SM08B-GHS-TBT |
| SCT1258WR-S-9P | SM09B-GHS-TBT |
| SCT1258WR-S-10P | SM10B-GHS-TBT |
| SCT1258WR-S-11P | SM11B-GHS-TBT |
| SCT1258WR-S-12P | SM12B-GHS-TBT |
| SCT1258WR-S-13P | SM13B-GHS-TBT |
| SCT1258WR-S-14P | SM14B-GHS-TBT |
| SCT1258WR-S-15P | SM15B-GHS-TBT |