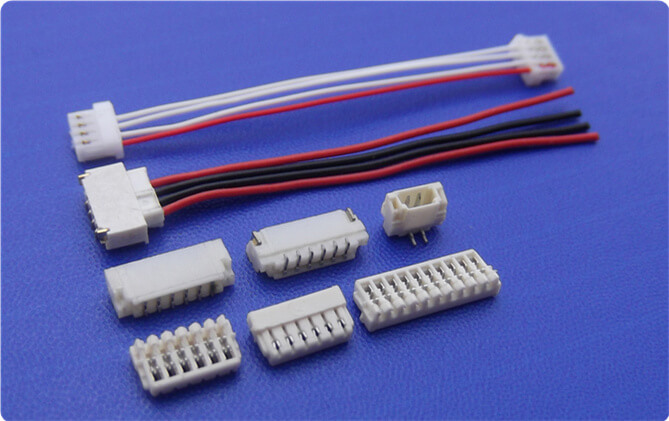 SCT0800 Series
SCT0800 series are replacement of JST SUR Series connectors. 0.8mm pitch wire to board connector,low-profile compact tyle, IDC style without crimp terminal.
| | |
| --- | --- |
| Compatible | JST SUR Series Connector |
| Pitch | 0.8mm |
| Poles | 2-22 poles |
| Current rating | 0.5A (AWG#32,36) |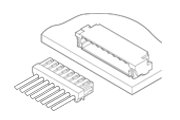 Cable assembly
Cable Assemblies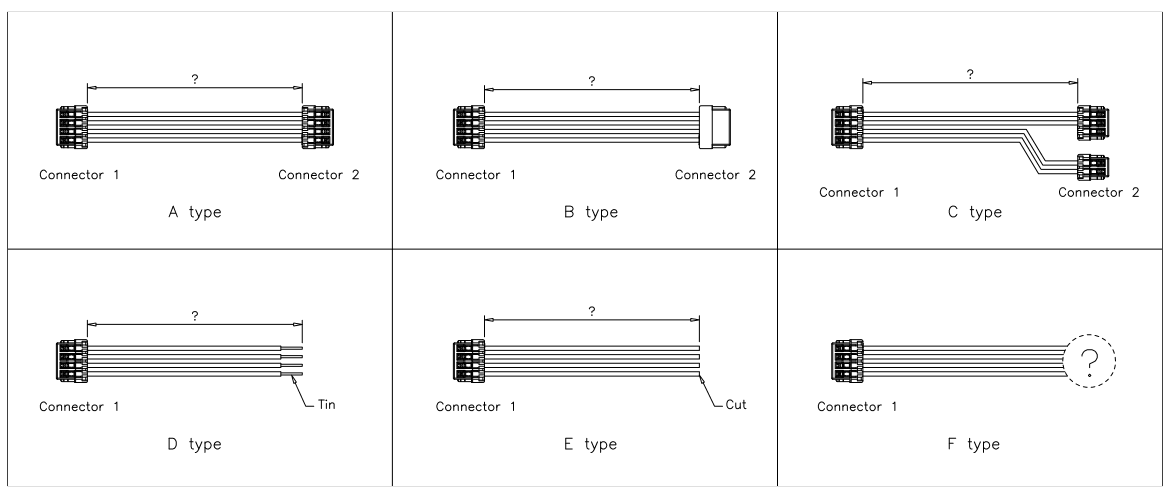 | Item | Spec. |
| --- | --- |
| Part No. | SCT0800 |
| Compatible: | JST SUR series connector |
| Pitch - Mating Interface | 0.5mm |
| Circuits | 2-22 |
| Applicable wire: | AWG#32,36 (Max.OD:1.0mm) |
| Current Rating: | 0.5A |
| Voltage Rating: | 30V |
| Temperature Range: | -20°C~+85°C |
| Contact Resistance: | 20m Omega Max |
| Insulation Resistance: | 100M Omega Min |
| Withstanding Voltage: | 200V AC/minute |
SUR 0.8mm connector
SUR 0.8mm connector is the world's first 0.8 mm wire to board connector. This SUR connector mainly finds its application in density packed electronic devices. This SUR series connector is available in various positions with the same rating for all. Its side mount and top mount variants add flexibility to fabrication and design.
Features
Three point grip construction
Three point grip feature of the SUR connector puts less pressure on the individual grips. On the other hand the grip is maintained firm. The same feature helps the displacement connection from any sort of possible damage as the grip holds the wires.
Super fine wires are usable
The connector can be used with the wires of AWG within the range of #32 to #36. The diameter of the wires should be 1.0mm. The routing job becomes easier with the help of super fine wires. The connector can also be applicable with conductor of seven strands thin copper alloy of diameter 0.39 mm.
Shrouded header
The header of the connector is shrouded. It doesn't impact on the size of the connector. It remains thin as usual.
Twin U-slot section
This section is known as twin U-slot displacement section. Each wire has twin tin wires which can be connected to the two U-slots of the connector to ensure proper connection.
Three available types and two mount types
The connector has three variants depending upon its usage such as IDC, low-profile and compact. Apart from that each type has two mount types such as top and side mount. The side entry type SUR connector saves around 34 percent of the space on the PCB as compared to the conventional type of connector used.
Temperature range, insulation and contact resistance
The connector works in a temperature range of -25 degrees centigrade to +85 degrees centigrade after taking in to account the rising of temperature due to flow of current.
Insulation and contact resistance are of 100M omega minimum and 20m omega maximum respectively.
Application
All densely packed electronic products
The SUR connector finds its usage in devices like VCRs, PDAs, computer, notebook, speaker, headlight, engine, stereo, LCD, LED lamps, battery, lamp strip, fan, car, headlights, PCB and digital cameras.
Part No. Cross reference
Housing & Terminal
Scondar Part No.
JST P/N

SCT0800H-02P
02SUR-32S
02SUR-36L
SCT0800H-03P
03SUR-32S
03SUR-36L
SCT0800H-04P
04SUR-32S
04SUR-36L
SCT0800H-05P
05SUR-32S
05SUR-36L
SCT0800H-06P
06SUR-32S
06SUR-36L
SCT0800H-07P
07SUR-32S
07SUR-36L
SCT0800H-08P
08SUR-32S
08SUR-36L
SCT0800H-09P
09SUR-32S
09SUR-36L
SCT0800H-10P
10SUR-32S
10SUR-36L
SCT0800H-11P
11SUR-32S
11SUR-36L
SCT0800H-12P
12SUR-32S
12SUR-36L
SCT0800H-13P
13SUR-32S
13SUR-36L
SCT0800H-14P
14SUR-32S
14SUR-36L
SCT0800H-15P
15SUR-32S
15SUR-36L
SCT0800H-16P
16SUR-32S
16SUR-36L
SCT0800H-17P
17SUR-32S
17SUR-36L
SCT0800H-18P
18SUR-32S
18SUR-36L
SCT0800H-19P
19SUR-32S
19SUR-36L
SCT0800H-20P
20SUR-32S
20SUR-36L
SCT0800H-21P
21SUR-32S
21SUR-36L
SCT0800H-22P
22SUR-32S
22SUR-36L
SMD Vertical Header
Scondar Part No.
JST P/N

SCT0800WV-S-02P
BM02B-SURS-TF
SCT0800WV-S-03P
BM03B-SURS-TF
SCT0800WV-S-04P
BM04B-SURS-TF
SCT0800WV-S-05P
BM05B-SURS-TF
SCT0800WV-S-06P
BM06B-SURS-TF
SCT0800WV-S-07P
BM07B-SURS-TF
SCT0800WV-S-08P
BM08B-SURS-TF
SCT0800WV-S-09P
BM09B-SURS-TF
SCT0800WV-S-10P
BM10B-SURS-TF
SCT0800WV-S-11P
BM11B-SURS-TF
SCT0800WV-S-12P
BM12B-SURS-TF
SCT0800WV-S-13P
BM13B-SURS-TF
SCT0800WV-S-14P
BM14B-SURS-TF
SCT0800WV-S-15P
BM15B-SURS-TF
SCT0800WV-S-16P
BM16B-SURS-TF
SCT0800WV-S-17P
BM17B-SURS-TF
SCT0800WV-S-18P
BM18B-SURS-TF
SCT0800WV-S-19P
BM19B-SURS-TF
SCT0800WV-S-20P
BM20B-SURS-TF
SCT0800WV-S-21P
BM21B-SURS-TF
SCT0800WV-S-22P
BM22B-SURS-TF
SMD Right-angle Header
Scondar Part No.
JST P/N

SCT0800WR-S-02P
SM02B-SURS-TF
SCT0800WR-S-03P
SM03B-SURS-TF
SCT0800WR-S-04P
SM04B-SURS-TF
SCT0800WR-S-05P
SM05B-SURS-TF
SCT0800WR-S-06P
SM06B-SURS-TF
SCT0800WR-S-07P
SM07B-SURS-TF
SCT0800WR-S-08P
SM08B-SURS-TF
SCT0800WR-S-09P
SM09B-SURS-TF
SCT0800WR-S-10P
SM10B-SURS-TF
SCT0800WR-S-11P
SM11B-SURS-TF
SCT0800WR-S-12P
SM12B-SURS-TF
SCT0800WR-S-13P
SM13B-SURS-TF
SCT0800WR-S-14P
SM14B-SURS-TF
SCT0800WR-S-15P
SM15B-SURS-TF
SCT0800WR-S-16P
SM16B-SURS-TF
SCT0800WR-S-17P
SM17B-SURS-TF
SCT0800WR-S-18P
SM18B-SURS-TF
SCT0800WR-S-19P
SM19B-SURS-TF
SCT0800WR-S-20P
SM20B-SURS-TF
SCT0800WR-S-21P
SM21B-SURS-TF
SCT0800WR-S-22P
SM22B-SURS-TF