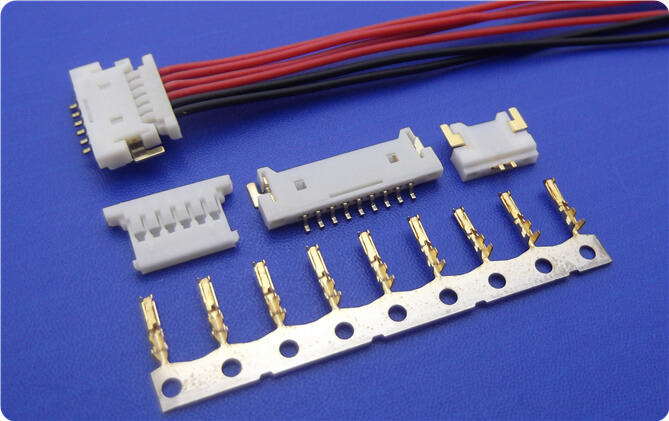 SCT1254 SERIES
SCT1254 Series are replacement of Molex's 1.25mm PanelMate™ system,The connectors was designed for Flat Panel Display Panels that require thin, low profile connectors.
| | |
| --- | --- |
| Compatible | Molex PanelMate™ Series Connector |
| Pitch | 1.25mm |
| Poles | 2-16,20,30 poles |
| Current rating | 1A (AWG#28-#32) |
Cable Assemblies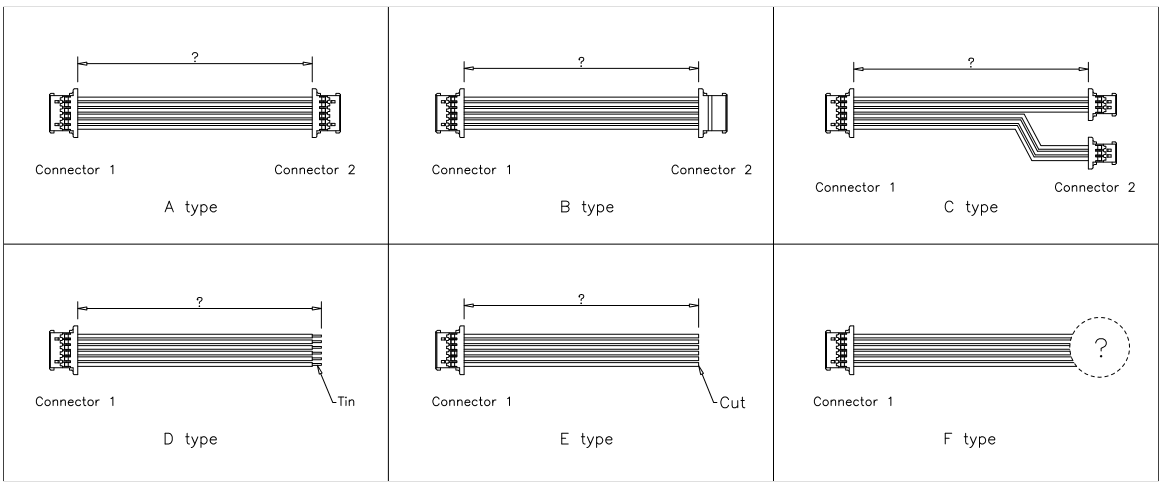 | Item | Spec. |
| --- | --- |
| Part No. | SCT1254 |
| Compatible: | Molex PanelMate™ series connector |
| Pitch - Mating Interface | 1.25mm |
| Circuits | 2-16,20,30 |
| Applicable wire: | AWG#28-#32 (Max.OD:1.0mm) |
| Current Rating: | 1A |
| Voltage Rating: | 100V |
| Temperature Range: | -25°C~+85°C |
| Contact Resistance: | 20m Omega Max |
| Insulation Resistance: | 100M Omega Min |
| Withstanding Voltage: | 500V AC/minute |
Molex PanelMate 51146 1.25mm pitch connector
The name panel mate of the Molex PanelMate 51146 1.25mm pitch connector has been derived from the functionality of the connector for being compatible with flat panel display panels especially. The low profile nature of the wire to board connector makes it usable in all low profile applications. The poles of the connector can vary from 2 to 16, 20 and 30.
Features
Ultra low profile design
The depth, width and length of the connector are 6.2mm, 1.8mm, and 9.47 mm respectively. For this reason the connector can be used with various crimp terminals.
Surface mount option with strong solder tabs
This surface mount feature of the connector makes it easy for the connector to stay connected with the PC board. This type of design also features fillet tail design for the same purpose.
Friction lock and housing lance
Friction lock is a necessary and important feature of a connector and the connector of series 51146 has friction lock feature along with housing lance. The locking feature helps the connector to maintain firm contact with the circuit.
Wipe length
The connector also features wipe length of 0.9mm. This enables the connector to remove all sorts of contaminants from disrupting the connections.
Polarized design
Polarized design of the connector makes it easy to detect the terminals of the connector. You won't make mistakes while connecting the connector with the circuit. In turn, you will avoid mating problems.
Environmental and electrical constraints
The connector can work properly within a temperature range of -25 degrees centigrade to +85 degrees centigrade. The connector can withstand a voltage of 500V AC per minute.
Applications
Consumer applications
The connector finds its usage in various consumer goods such as LCD, TV panel, set top boxes, notebook PC, point of sales terminals, and various mobile phones and gaming consoles.
Industrial applications
The connector finds its application in both automotive and medical industries. In automotive industry, the connector is used in the LCD panels used in cars and in the medical industry the connector used in patient monitors.
Part No. Cross reference
Housing & Terminal
| SCONDAR P/N | Molex P/N |
| --- | --- |
| SCT1254T-P | 506418141/506418041 |
| SCT1254H-2P | 511460200 |
| SCT1254H-3P | 511460300 |
| SCT1254H-4P | 511460400 |
| SCT1254H-5P | 511460500 |
| SCT1254H-6P | 511460600 |
| SCT1254H-7P | 511460700 |
| SCT1254H-8P | 511460800 |
| SCT1254H-9P | 511460900 |
| SCT1254H-10P | 511461000 |
| SCT1254H-11P | 511461100 |
| SCT1254H-12P | 511461200 |
| SCT1254H-13P | 511461300 |
| SCT1254H-14P | 511461400 |
| SCT1254H-15P | 511461500 |
| SCT1254H-16P | 511461600 |
SMD Right-angle Socket
| SCONDAR P/N | Molex P/N |
| --- | --- |
| SCT1254WR-S-2P | 537800270 |
| SCT1254WR-S-3P | 537800370 |
| SCT1254WR-S-4P | 537800470 |
| SCT1254WR-S-5P | 537800570 |
| SCT1254WR-S-6P | 537800670 |
| SCT1254WR-S-7P | 537800770 |
| SCT1254WR-S-8P | 537800870 |
| SCT1254WR-S-9P | 537800970 |
| SCT1254WR-S-10P | 537801070 |
| SCT1254WR-S-11P | 537801170 |
| SCT1254WR-S-12P | 537801270 |
| SCT1254WR-S-13P | 537801370 |
| SCT1254WR-S-14P | 537801470 |
| SCT1254WR-S-15P | 537801570 |
| SCT1254WR-S-16P | 537801670 |