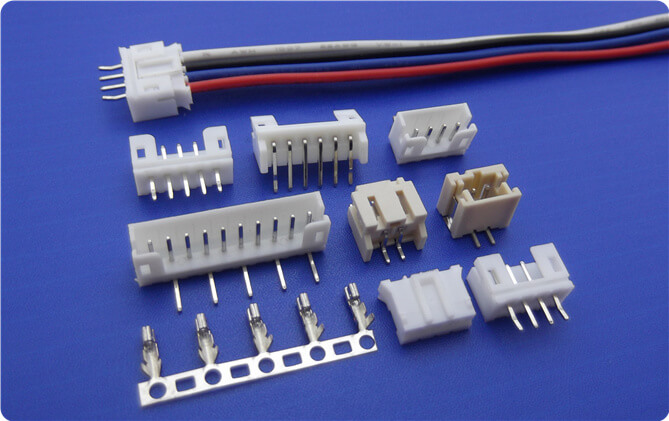 SCT2001 Series
SCT2001 series are replacement of JST PH connectors. 2.0mm pitch, It's widely use wire to board connectors. Fully shrouded header, crimp style.
| | |
| --- | --- |
| Compatible | JST PH Series Connector |
| Pitch | 2.0mm |
| Poles | 2-16 poles |
| Current rating | 2A (AWG#22-#28) |
Cable Assemblies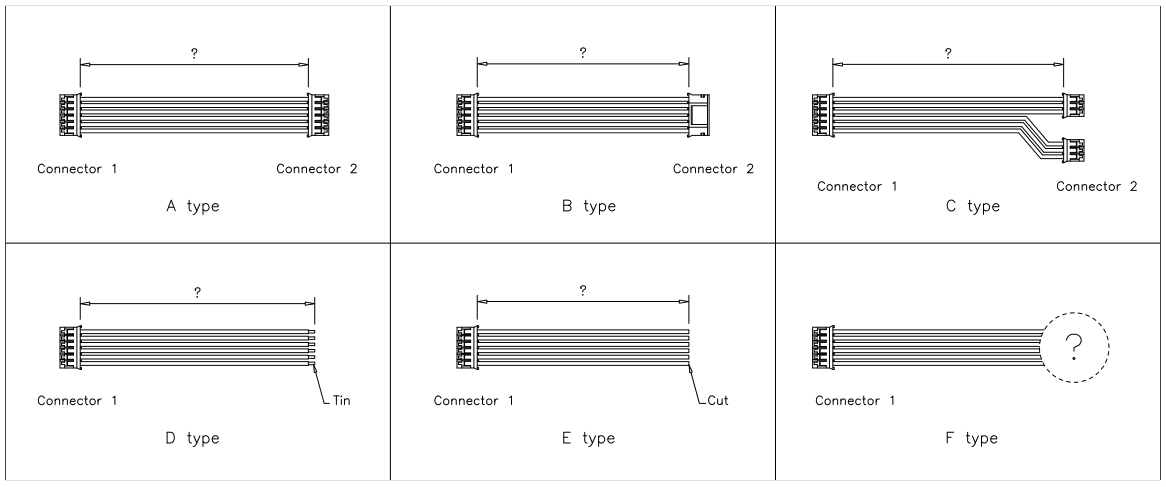 | Item | Spec. |
| --- | --- |
| Part No. | SCT2001 |
| Compatible: | JST PH series connector |
| Pitch - Mating Interface | 2.0mm |
| Circuits | 2-16 |
| Applicable wire: | AWG#22-#28 (Max.OD:1.5mm) |
| Current Rating: | 2A |
| Voltage Rating: | 250V |
| Temperature Range: | -25°C~+85°C |
| Contact Resistance: | 20m Omega Max |
| Insulation Resistance: | 1000M Omega Min |
| Withstanding Voltage: | 800V AC/minute |
PHR 2.0mm connector
PHR 2.0mm connector belongs to PH connector series. Out of three types of such connectors such crimp, thin and disconnect-able type, crimp style connector has much more utility than others. This is a crimp style wire to board connector.
Features
It maintains reliable contacts
The orientation of the connector is free hanging. This style of connection suggests that it needs no additional support for maintaining good connection between the contact points. To further the reliable connections the contact has strip holding length. The same is achieved through a long wire of minimum length 2.6 mm. The wire length can vary within a range of +-0.4 mm.
The header of the connector is completely covered
The shrouded headers keep the header of the connector protected and along with that it paves the way for reliable connection. This shrouded header has another advantage. It can be used for different insulation displacement connectors. The names of such connectors can be KR, CR and KRD. The insulation resistance offered by the connector is at minimum 100 M Omega.
It offers pretty low contact resistance and high withstanding voltage
There is a dimple to indicate the positive contact between the points. It also ensures low contact resistance. The contact resistance offered by the connector is at maximum 20 m omega. The withstanding voltage of the connector is 500V AC per minute.
It has high temperature resistance capability
The connector can work without showing faults in high temperature environments. It can work effectively within a range of -25 degrees centigrade and +85 degrees centigrade. This feature of the connector again emphasizes on the reliability of the connector.
Applications
The connector finds its application in housing, terminal, wafer and wire harness. To ensure its use for different application, printed circuit board retention mechanism has been employed while designing the connector. To further its application in various circuits, it has been made based on the surface mount model.
Applicable in both AC and DC environments
The connector has same voltage and current rating for both AC and DC environments of 250V and 2A respectively.
Housing & Terminal
| SCONDAR P/N | JST P/N |
| --- | --- |
| SCT2001-TP | SPH-002T-P0.5S |
| SCT2001-TP | SPH-002T-P0.5L |
| SCT2001-TP | SPH-004T-P0.5S |
| SCT2001H-2P | PHR-2 |
| SCT2001H-3P | PHR-3 |
| SCT2001H-4P | PHR-4 |
| SCT2001H-5P | PHR-5 |
| SCT2001H-6P | PHR-6 |
| SCT2001H-7P | PHR-7 |
| SCT2001H-8P | PHR-8 |
| SCT2001H-9P | PHR-9 |
| SCT2001H-10P | PHR-10 |
| SCT2001H-11P | PHR-11 |
| SCT2001H-12P | PHR-12 |
| SCT2001H-13P | PHR-13 |
| SCT2001H-14P | PHR-14 |
| SCT2001H-15P | PHR-15 |
| SCT2001H-16P | PHR-16 |
Vertical Header
| SCONDAR P/N | JST P/N |
| --- | --- |
| SCT2001WV-2P | B2B-PH-K-S |
| SCT2001WV-3P | B3B-PH-K-S |
| SCT2001WV-4P | B4B-PH-K-S |
| SCT2001WV-5P | B5B-PH-K-S |
| SCT2001WV-6P | B6B-PH-K-S |
| SCT2001WV-7P | B7B-PH-K-S |
| SCT2001WV-8P | B8B-PH-K-S |
| SCT2001WV-9P | B9B-PH-K-S |
| SCT2001WV-10P | B10B-PH-K-S |
| SCT2001WV-11P | B11B-PH-K-S |
| SCT2001WV-12P | B12B-PH-K-S |
| SCT2001WV-13P | B13B-PH-K-S |
| SCT2001WV-14P | B14B-PH-K-S |
| SCT2001WV-15P | B15B-PH-K-S |
| SCT2001WV-16P | B16B-PH-K-S |
Right-angle Header
| SCONDAR P/N | JST P/N |
| --- | --- |
| SCT2001WR-2P | S2B-PH-K-S |
| SCT2001WR-3P | S3B-PH-K-S |
| SCT2001WR-4P | S4B-PH-K-S |
| SCT2001WR-5P | S5B-PH-K-S |
| SCT2001WR-6P | S6B-PH-K-S |
| SCT2001WR-7P | S7B-PH-K-S |
| SCT2001WR-8P | S8B-PH-K-S |
| SCT2001WR-9P | S9B-PH-K-S |
| SCT2001WR-10P | S10B-PH-K-S |
| SCT2001WR-11P | S11B-PH-K-S |
| SCT2001WR-12P | S12B-PH-K-S |
| SCT2001WR-13P | S13B-PH-K-S |
| SCT2001WR-14P | S14B-PH-K-S |
| SCT2001WR-15P | S15B-PH-K-S |
| SCT2001WR-16P | S16B-PH-K-S |
SMD Vertical Socket
| SCONDAR P/N | JST P/N |
| --- | --- |
| SCT2001WV-S-2P | B2B-PH-SM4-TB |
| SCT2001WV-S-3P | B3B-PH-SM4-TB |
| SCT2001WV-S-4P | B4B-PH-SM4-TB |
| SCT2001WV-S-5P | B5B-PH-SM4-TB |
| SCT2001WV-S-6P | B6B-PH-SM4-TB |
| SCT2001WV-S-7P | B7B-PH-SM4-TB |
| SCT2001WV-S-8P | B8B-PH-SM4-TB |
| SCT2001WV-S-9P | B9B-PH-SM4-TB |
| SCT2001WV-S-10P | B10B-PH-SM4-TB |
| SCT2001WV-S-11P | B11B-PH-SM4-TB |
| SCT2001WV-S-12P | B12B-PH-SM4-TB |
| SCT2001WV-S-13P | B13B-PH-SM4-TB |
| SCT2001WV-S-14P | B14B-PH-SM4-TB |
| SCT2001WV-S-15P | B15B-PH-SM4-TB |
| SCT2001WV-S-16P | B16B-PH-SM4-TB |
SMD Right-angle Socket
| SCONDAR P/N | JST P/N |
| --- | --- |
| SCT2001WR-S-2P | S2B-PH-SM4-TB |
| SCT2001WR-S-3P | S3B-PH-SM4-TB |
| SCT2001WR-S-4P | S4B-PH-SM4-TB |
| SCT2001WR-S-5P | S5B-PH-SM4-TB |
| SCT2001WR-S-6P | S6B-PH-SM4-TB |
| SCT2001WR-S-7P | S7B-PH-SM4-TB |
| SCT2001WR-S-8P | S8B-PH-SM4-TB |
| SCT2001WR-S-9P | S9B-PH-SM4-TB |
| SCT2001WR-S-10P | S10B-PH-SM4-TB |
| SCT2001WR-S-11P | S11B-PH-SM4-TB |
| SCT2001WR-S-12P | S12B-PH-SM4-TB |
| SCT2001WR-S-13P | S13B-PH-SM4-TB |
| SCT2001WR-S-14P | S14B-PH-SM4-TB |
| SCT2001WR-S-15P | S15B-PH-SM4-TB |