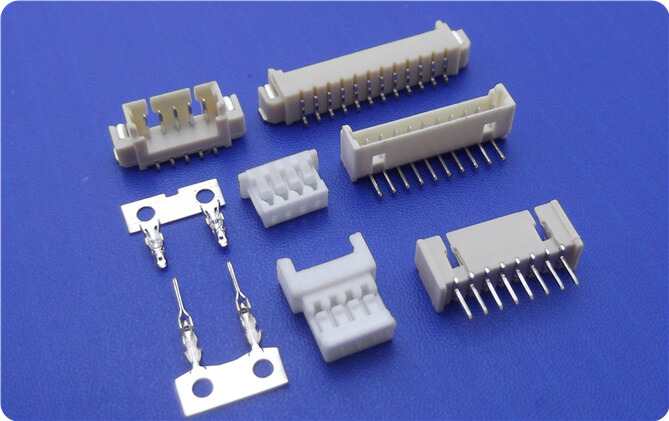 SCT1251 SERIES
SCT1251 series are replacement of Molex's 1.25mm PicoBlade system provides the same 1.0A of current as similar 2.00mm pitch systems, in a more compact design.
| | |
| --- | --- |
| Compatible | Molex PicoBlade™ Connector |
| Pitch | 1.25mm |
| Poles | 2-16 poles |
| Current rating | 1A (AWG#28-#32) |
| Item | Spec. |
| --- | --- |
| Part No. | SCT1251 |
| Compatible: | Molex 51021 series connector |
| Pitch - Mating Interface | 1.25mm |
| Circuits | 2-16 |
| Applicable wire: | AWG#28-#32 (Max.OD:1.0mm) |
| Current Rating: | 1A |
| Voltage Rating: | 150V |
| Temperature Range: | -40°C~+85°C |
| Contact Resistance: | 20m Omega Max |
| Insulation Resistance: | 1000M Omega Min |
| Withstanding Voltage: | 500V AC/minute |
Molex 51021 connector 1.25mm PicoBlade connector
is meant for wire to board connections but it can be used for both wire to board and wire to wire connections. This makes your design compact. Apart from that it allows the same 1A current to pass through as that of the 2mm connector. The space you save with this connector is about 45 percent.
The connector is available in two to fifteen circuits in a row style to meet your usage. Features of the connector It has the friction lock features which holds it intact to the circuit in case of any sort of accidental vibrations. The reliable terminals of the connector ensure endless electrical connection at times of both electrical and physical anomalies.
The polarized mating feature of the connector stops any sort of mis-mating of harness to header. Thanks to the solder tabs of the connector, you can mishandle the circuit without cracking the solder joints and header to PCB connection. You can opt for its vacuum cap feature which makes it easy to mount vertically. Specifications The number of poles of the connector can vary within a range of 2 to 16.
The voltage and current specification of the connector are 150 V and 1 A for both AC and DC. It can work in a temperature range of -40 degrees centigrade to +85 degrees centigrade. The contact resistance of the connector is 20m omega at maximum and the insulation resistance is 100 M omega at minimum. The connector can withstand 500V AC per minute.
Item, material and package
For housing, wafer and wire harness purpose the product is available in a package of 1000 pcs per bag.
For terminal purpose the product is available in pack of 15,000 per bag. Materials used for housing, wafer and terminal are Nylon66 UL94V-0, Nylon66/46 UL94V-0, Phosphor bronze/Brass respectively.
You can ask for custom material for wire harness purpose.
Part No. Cross reference
Housing & Terminal
| SCONDAR P/N(male housing) | Molex P/N | SCONDAR P/N(female housing) | Molex P/N |
| --- | --- | --- | --- |
| SCT1251FT-P | 50058-8000 | SCT1251MT-P | 50125-8000 |
| SCT1251MH-2P | 510210200 | SCT1251FH-2P | 510470200 |
| SCT1251MH-3P | 510210300 | SCT1251FH-3P | 510470300 |
| SCT1251MH-4P | 510210400 | SCT1251FH-4P | 510470400 |
| SCT1251MH-5P | 510210500 | SCT1251FH-5P | 510470500 |
| SCT1251MH-6P | 510210600 | SCT1251FH-6P | 510470600 |
| SCT1251MH-7P | 510210700 | SCT1251FH-7P | 510470700 |
| SCT1251MH-8P | 510210800 | SCT1251FH-8P | 510470800 |
| SCT1251MH-9P | 510210900 | SCT1251FH-9P | 510470900 |
| SCT1251MH-10P | 510211000 | SCT1251FH-10P | 510471000 |
| SCT1251MH-11P | 510211100 | SCT1251FH-11P | 510471100 |
| SCT1251MH-12P | 510211200 | SCT1251FH-12P | 510471200 |
| SCT1251MH-13P | 510211300 | SCT1251FH-13P | 510471300 |
| SCT1251MH-14P | 510211400 | SCT1251FH-14P | 510471400 |
| SCT1251MH-15P | 510211500 | SCT1251FH-15P | 510471500 |
| SCT1251MH-16P | 510211600 | SCT1251FH-16P | 510471600 |
Vertical Header
| SCONDAR P/N | Molex P/N |
| --- | --- |
| SCT1251WV-2P | 530470210 |
| SCT1251WV-3P | 530470310 |
| SCT1251WV-4P | 530470410 |
| SCT1251WV-5P | 530470510 |
| SCT1251WV-6P | 530470610 |
| SCT1251WV-7P | 530470710 |
| SCT1251WV-8P | 530470810 |
| SCT1251WV-9P | 530470910 |
| SCT1251WV-10P | 530471010 |
| SCT1251WV-11P | 530471110 |
| SCT1251WV-12P | 530471210 |
| SCT1251WV-13P | 530471310 |
| SCT1251WV-14P | 530471410 |
| SCT1251WV-15P | 530471510 |
| SCT1251WV-16P | 530471610 |
Right-angle Header
| SCONDAR P/N | Molex P/N |
| --- | --- |
| SCT1251WR-2P | 530480210 |
| SCT1251WR-3P | 530480310 |
| SCT1251WR-4P | 530480410 |
| SCT1251WR-5P | 530480510 |
| SCT1251WR-6P | 530480610 |
| SCT1251WR-7P | 530480710 |
| SCT1251WR-8P | 530480810 |
| SCT1251WR-9P | 530480910 |
| SCT1251WR-10P | 530481010 |
| SCT1251WR-11P | 530481110 |
| SCT1251WR-12P | 530481210 |
| SCT1251WR-13P | 530481310 |
| SCT1251WR-14P | 530481410 |
| SCT1251WR-15P | 530481510 |
| SCT1251WR-16P | 530481610 |
SMD Vertial Socket
| SCONDAR P/N | Molex P/N | Molex P/N |
| --- | --- | --- |
| SCT1251WV-S-2P | 533980271 | 533980267 |
| SCT1251WV-S-3P | 533980371 | 533980367 |
| SCT1251WV-S-4P | 533980471 | 533980467 |
| SCT1251WV-S-5P | 533980571 | 533980567 |
| SCT1251WV-S-6P | 533980671 | 533980667 |
| SCT1251WV-S-7P | 533980771 | 533980767 |
| SCT1251WV-S-8P | 533980871 | 533980867 |
| SCT1251WV-S-9P | 533980971 | 533980967 |
| SCT1251WV-S-10P | 533981071 | 533981067 |
| SCT1251WV-S-11P | 533981271 | 533981167 |
| SCT1251WV-S-12P | 533981271 | 533981267 |
| SCT1251WV-S-13P | 533981371 | 533981367 |
| SCT1251WV-S-14P | 533981471 | 533981467 |
| SCT1251WV-S-15P | 533981571 | 533981567 |
| SCT1251WV-S-16P | 533981671 | 533981667 |
SMD Right-angle Socket
| SCONDAR P/N | Molex P/N(Tin Plating) | Molex P/N(Gold Plating) |
| --- | --- | --- |
| SCT1251WR-S-2P | 532610271 | 532617002 |
| SCT1251WR-S-3P | 532610371 | 532617003 |
| SCT1251WR-S-4P | 532610471 | 532617004 |
| SCT1251WR-S-5P | 532610571 | 532617005 |
| SCT1251WR-S-6P | 532610671 | 532617006 |
| SCT1251WR-S-7P | 532610771 | 532617007 |
| SCT1251WR-S-8P | 532610871 | 532617008 |
| SCT1251WR-S-9P | 532610971 | 532617009 |
| SCT1251WR-S-10P | 532611071 | 532617010 |
| SCT1251WR-S-11P | 532611171 | 532617011 |
| SCT1251WR-S-12P | 532611271 | 532617012 |
| SCT1251WR-S-13P | 532611371 | 532617013 |
| SCT1251WR-S-14P | 532611471 | 532617014 |
| SCT1251WR-S-15P | 532611571 | 532617015 |
| SCT1251WR-S-16P | 532611671 | 532617016 |